Dance Mat Typing - ready to step up your skills?
Try Englishtype - from the designer of Dance Mat Typing
Serious about teaching touch typing for kids? It's time to step up from Dance Mat Typing to Englishtype. Dance Mat is just a little introduction to typing. If you're familiar with the real benefits of unconscious typing by touch, Dance Mat Typing can't deliver this for your children – it's just too small. At 200 times the size, Englishtype teaches touch typing properly (see comparison below). It's literacy focussed, with lots of different activities to build accuracy & speed. And it's not expensive – click to see our online versions.
When the BBC wanted to develop an online typing program for kids, their team looked at all the other typing programs and decided Englishtype's design was the one they liked best. So they invited Englishtype's Educational Psychologist, Jo, to be the educational designer & typing expert on their team. Cartoon graphics & voices were done by others on the team. And Dance Mat Typing was born!
The teaching method, colour coding of the keys, lesson structure and vocabulary content was developed by Jo. This 8 colour coding system is unique to Englishtype & Dance Mat, it's a powerful way to boost learning to type. Englishtype is like Dance Mat's big brother!
The program was very successful and the team were proud to win a BAFTA (Games) for the program in 2004. It is still used by many schools today as a free online resource.

Dance Mat Typing vs Englishtype
Like many online programs, Dance Mat Typing had to be small and simple so it could run on lots of types of devices. 
Dance Mat Typing has ONLY 240 lines of typing in TOTAL: this gives a taste of touch typing.  It's not possible to build the unconscious automatic skill (or muscle memory) with only this much practice. On average, it takes 20-25 hours of practice to build both accuracy & speed to unconscious function. You would need to repeat Dance Mat Typing an awful lot of times to achieve this!
Englishtype has more typing in one LEVEL alone, with main lessons, games, speed booster & spelling lessons.  Progress is saved and there are targeted activities to build & test the skill acquisition as you move through the program.  See how Dance Mat and Englishtype compare…
BBC Bitesize Dance Mat Typing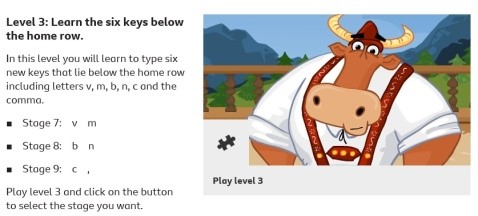 Englishtype Junior & Senior