Englishtype and BBC Schools Bitesize Dance Mat Typing
When the BBC wanted to develop an online program for touch typing for kids, their team looked at the other typing tutors around and they decided Englishtype's design and approach was the one they liked best.  So they invited Englishtype's Educational Psychologist, Jo, to be the consultant and educational designer of their program – BBC BiteSize Dance Mat Typing.
The program & lesson structure, introduction of letters, and vocabulary content was developed by Jo.  She also included the unique colour coding – this is the only other place you see this system. Graphics, music and voices were done by other members of the team.  The program was very successful and the team were proud to win a BAFTA (Games) for the program in 2004.  It is still used by many schools today as a free online resource.
However, if you are serious about teaching touch typing for kids, it's time to graduate from Dance Mat Typing to Englishtype. If you're familiar with the real benefits of muscle memory and automaticity, Dance Mat Typing can't deliver this for your pupils – Englishtype will get pupils typing properly. And it's not expensive – a site licence of unlimited usage for a Primary school is just £250, one off fee, not annual.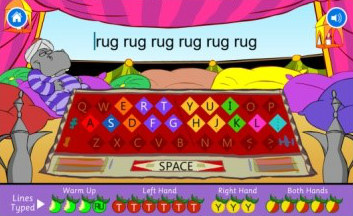 Englishtype Vs BBC Bitesize Dance Mat Typing
Like other online programs, Dance Mat Typing had to be restricted in size and computer processing power so that most normal computers can run it.  Typing tutors that run online have to be either visually simple and/or, like Dance Mat Typing, have only a few lines of content.
Dance Mat Typing has 12 sections, each of which has a maximum of 20 lines to type.  The whole program has less than 240 lines in total.  This will introduce the idea of touch typing and give a taste of the finger movements and skill, but it's not possible to build the muscle memory with only this much content.  On average, it takes 20 hours of practice to achieve muscle memory, you'd need to repeat Dance Mat Typing an awful lot of times!
Englishtype also has 12 sections, offering a choice of up to 250 lines per level, plus games and booster – giving a choice of over 4,000 lines of text and that's without any repetition.  Games and Booster are specially designed to be repeated to boost muscle memory and improve speed & accuracy.
BBC Bitesize Dance Mat Typing
How they compare
No accuracy or speed monitoring
Permanent onscreen keyboard can mean learning hasn't been internalised
Fun animation, voices & music
Simply not enough content to build muscle memory for automaticity
No record of improvement, no ability to monitor progress
Englishtype
How they compare
4,000+ lines of text to choose
Main lessons
Extra lessons
Spelling lessons
6 different games
Speed Booster races
Monitors key accuracy, highlighting problem keys
Activities with no onscreen keyboard test learning
Awards bronze, silver or gold for performance
Collect rewards, gems, outfits & trophies
Fun animation, voices & music developed by award winning video game designers
Key objective is muscle memory and automaticity
Progress is saved and learning is cumulative
Teacher Admin package for schools, easy to monitor progress
BBC Bitesize Dance Mat Typing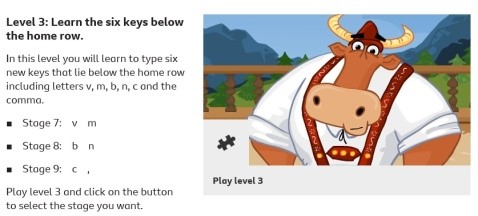 Englishtype Junior & Senior